January 15, 2014
It should come as no surprise that we here at Bliss are always looking to the future. We want to be sure we are providing our clients with the most cutting edge technology available, and that we're consistently innovating on our own designs. It should also come as no surprise that we love this stuff.
Chances are, if you're following us, you love this stuff too. CES is one of the biggest consumer electronics trade shows in the world, and it's a major event when it comes to predicting the tech trends that are likely to dominate within the next few years. Home theater and automation has always been a compelling field to be in, but with each passing year it becomes more exciting, and shows like CES do a great job of sharing this excitement with the world.
With that in mind, we want to share five of our favorite products and trends that popped up at this year's show, so we could pass on some of our own excitement to you.
Sony 4K Ultra Short Throw Projector
There's a reason we proudly list Sony among our many
partners.
Time and again, they showcase some of the most interesting display technology out there.
The 4K Ultra Short Throw Projector
is no exception. The projector showcases two major things we are passionate about: spectacular picture quality and beautiful design.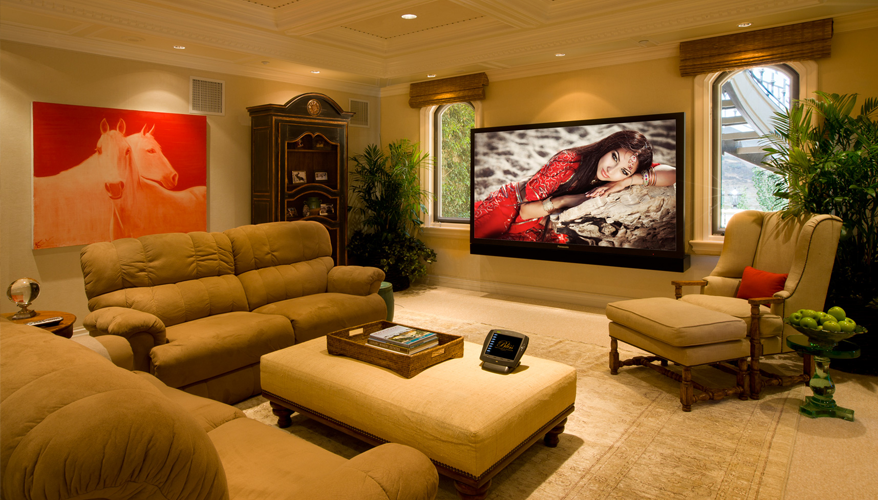 Boasting a 4K Ultra High Definition picture and an image up to 107-inches in size, the short throw projector is an excellent example of how far we've come in bringing the cinema experience directly to the home. However, in its beautiful furniture-like design, it also highlights something we take seriously at Bliss: technology that fits seamlessly into your life.
There's a reason we build displays the come down from the ceiling, or up from the floor. We believe that, done right, home theater and media solutions can add to the beauty of your home, without having to be the constant focal point of a room. With Sony's short throw projector, they built a beautiful piece of furniture that also projects a beautiful image.

LG's 77-inch Bendable OLED TV
While CES once again easily made the case for 4K this year, OLED news was in short supply. However, when it did show up, the results were stunning. The color saturation and accuracy shown in OLED displays is gorgeous, and LG's display was a prime example.
The television, like many others at CES this year, sported a curve in its design. What made LG's curve different from the rest of the displays at the show was its flexibility. The user was able to change the severity of the curve with the press of a button. Practically speaking, we're not sure what this feature adds to the experience, but as a tech demo it is pretty interesting.
While OLED has been a technology slow to develop, every time it shows up at a trade show, it once again reminds us why we are more than happy to wait for it.
Goji Smart Lock
We're not so much excited about this product in particular, but for what it represents. The Goji Smart Lock is one in a line of many home automation products that were on the floor at CES.
As we've said before, we love to see home automation becoming more accessible to everyone, because it, in turn, pushes the technology further and allows us to innovate even more when it comes to installing our own home automation systems. Goji's Smart Lock is a prime example of selling the deceptive simplicity and ultra-convenience of home automation to the masses.
Sony and Netflix 4K Content
Like the Smart Lock, these are more exciting for what they represent. 4K is destined to be the next step in bringing the highest quality video image directly into the home, but a major hurdle for the past few years was simply the lack of content.
With Netflix announcing 4K quality original programming, and Sony reinforcing its intention to deliver 4K content with an update to its media player, this CES has proven that 4K is on the cusp of taking over the home theater in 2014.
While 4K displays may still be out of the price range for most consumers, they are a technology that we are excited about bringing into more and more of our own home theaters as we design and install them. These moves towards 4K content by major companies like Sony reinforce our enthusiasm for the new standard in high definition.
While there will be plenty more trade shows throughout the year, CES is probably the most well-known. We were thrilled to see so many interesting and beautiful advancements in the areas of home theater and automation being showcased, and we look forward to how our industry will continue to evolve in the years to come. We hope you'll join us in looking towards the future.